The RIC (Roughage Intake Control) system is specially designed by experts and build with compact installation dimensions, so that it can easily be installed in both existing barns and new barns. The RIC system is modular in construction, very robust and extremely durable, thus guarantees a long, trouble free lifetime with low maintenance costs. The RIC system is easy to use for the cow, but also for the day-to-day user of the system. The RIC system consists of a feed-weigh trough combined with an intelligent feeding gate to gather individual cow data regarding feed intake. It is possible to expand the system with water-weigh troughs and animal-weigh scales to gather even more individual cow data.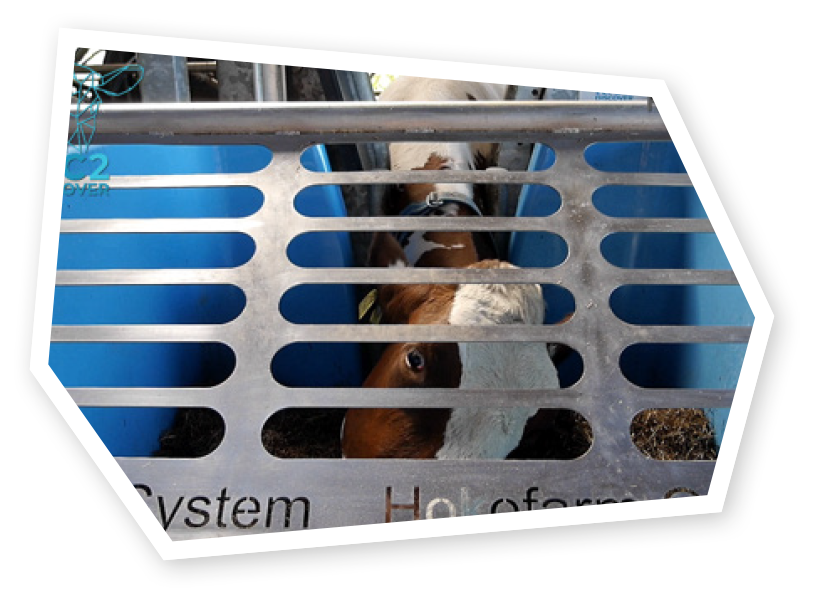 FEED-WEIGH TROUGH


The RIC feed-weigh trough continuously and accurately weighs the contained feed. The RIC feed-weigh trough measures the amount of roughage intake with extreme precision and stores the data in the secure RIC database.
INTELLIGENT FEEDING GATE


The intelligent feeding gate is a high-quality galvanised feeding gate with an access slide and cow identification sensors. The intelligent feeding gate has a solid, yet open construction so it does not hinder the cow during feed intake.
STAINLESS STEEL LIDS


The RIC feed-weigh trough can be equipped with a stainless-steel lid in order to reduce feed spilling. The lid can be opened in order to fill or clean the trough and is controlled pneumatically.
LOW MAINTENANCE COSTS


We create solid and robust RIC weigh-troughs made from steel to give them a long durability. Once the RIC system is installed by our technical experts, the recurring maintenance can be performed by on-site farm personnel.
NATURAL FEEDING BEHAVIOUR


The RIC feed-weigh trough and intelligent feeding gate have an open built which creates an optimal situation for the cow. The open trough with natural light exposure enables the cow to express natural feeding behaviour and reduces stress in the barn.
BUILT FOR THE FUTURE


The world is requiring continually more efficient cows and farming practices. Your attention must be with your cows and running your farm, so we offer the equipment to take highly reliable measurements of feed intake to create more efficient processes and cows.