Your OEM partner in dairy farming
We live in a rapidly changing world. Globalisation and new technology are resulting in new product-market combinations that offer an abundance of opportunities.
According to current scientific population growth projections, the world population, by 2050, will be 10 billion people. Such enormous growth means that there needs to be a considerable increase in food production.
And with income levels rising the demand for quality food and dairy products is also on the increase.
A development that runs parallel to the growth figures is the increasing awareness of the origin of produce, animal welfare, the use of antibiotics and the impact our actions have on the environment (carbon footprint).
In this interplay of forces you have conceived your own vision, one that responds to demand in the market.
But the question is: how can your idea be worked out, tested, and produced in high volumes with consistently high quality?
The Hokofarm Group operates in the international agriculture and nutrition markets. The Hokofarm Group believes in a healthy future for the international dairy industry.
Milk is and always will be unique and healthy. As a raw product or as a processed product such as cheese, yoghurt and butter, it is an essential component of diets throughout the world. Together with the Hokofarm Group you can make use of these unique propositions and successfully apply new technologies to create sustainable products.
The Hokofarm Group specialises in the development, production and servicing conventional milking systems, optics, hardware and software, mechanics, sensors and management systems, amongst other things, and can brings its expertise in all these areas to the development of successful products for OEM clients.
All this, as well as a thorough knowledge of the market, reliability and years of experience on an international scale, makes Hokofarm an ideal collaboration partner for numerous OEM clients. Your business case is in good hands with the Hokofarm Group.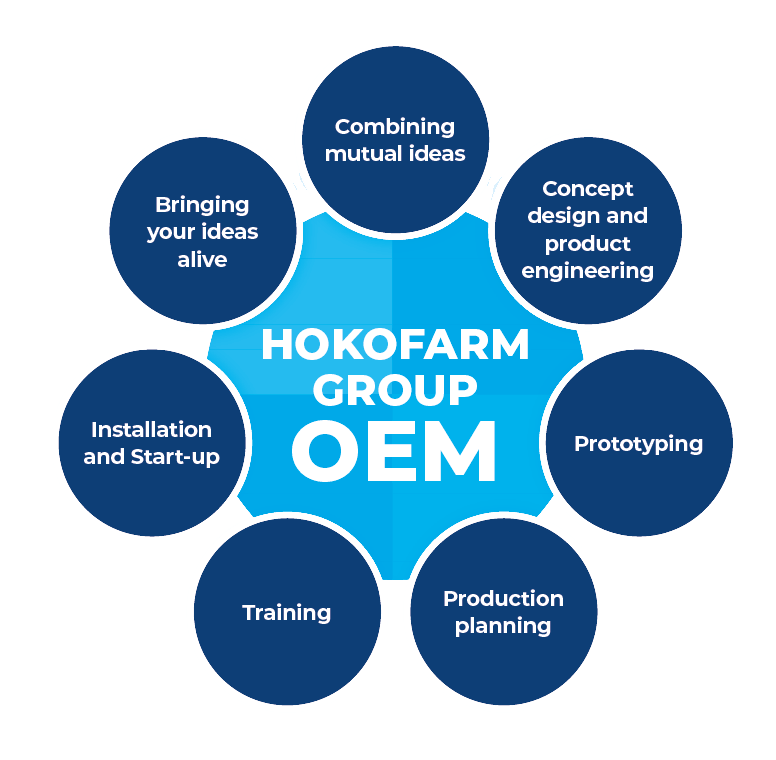 "Hokofarm Group is your winwin partner if you are looking for an original equipment manufacturer, specialized in dairy farming. Together we are bringing your ideas to life!"
Berry Brands,

Export Manager OEM
EXTENTEND PRODUCT RANGE WITH HIGH QUALITY
We have a successful product range which includes Apollo management software, milk meters, Identification systems and PCBs as well as touchscreens, selection gates, feeding stations, and complete computer systems (hardware as well as software) for conventional milking systems.
Hokofarm products are produced in quantity and represent the best in quality. By using the right materials and applying the best possible production process we are able to create a favourable quality/price ratio.
Before leaving the factory, every product is subjected to extensive testing procedures during which operating reliability is tested under extreme conditions.
Clients deal directly with Hokofarm Group. We do not use expensive or time-consuming intermediaries. Short lines with the R&D department avoid communication difficulties and delays.
Our company philosophy 'Bringing your ideas to life' emphasizes the central role of the client.
Every Hokofarm Group product contributes to efficient operations and as such provides the basis for the development of your business and its results.
Hokofarm Group can provide total solutions for OEMs.
HIGHLIGHTED: APOLLO MANAGEMENT SOFTWARE
Get complete control and a clear overview with: Apollo Management Software
Apollo Management Software gives more control over the most important parameters on the farm. With the latest data from Apollo Management Software, daily routines are more efficiently so you can keep track of your herd. It is easy to set up ongoing processes such as milking, feeding, separation, animal identification and heat detection (only with cows) according to the wishes and needs.
Clear overview of your herd
With the graphical overview, it is easy to optimise your business processes both at the farm level and at the individual animal level. Enter data quickly for several animals simultaneously and filter different groups.
24/7 access, anytime, anywhere
Access the herd data anytime, anywhere: on the Milking Parlour Monitor in the parlour, on PC/laptop, tablet or mobile. This means you can always react to attentions brought to your attention, allowing you to make the right decision quickly.
Simple, user-friendly and safe
Apollo Management Software is simple and easy to use, and you only see the modules you choose. Your herd data, on the Apollo Controller, is kept separate from your 'own' internet and therefore your data is always protected against possible viruses and power cuts.
The benefits for you
simple and user-friendly
graphical data display
easily enter data for multiple animals
a good and clear overview of your herd
24/7 access, anytime and anywhere
Choose your own modules
Choose your own entry-level model
Apollo Management Software offers you two entry-level models.  You can therefore buy at entry level and upgrade whenever you choose without losing your initial investment. Ofcourse it is possible to make your model at your wishes and needs.
CERTAINTIES OF THE HOKOFARM GROUP
The Hokofarm Group is your trustfull partner, that will bring your ideas to live. With our more then 40 years of experience in the OEM dairy market, we assist you in the full process from development to production in high volumes and a consistently high quality to training. Our partners must be entirely free to develop and expand their business however they see fit. The Hokofarm Group will assist you in your journey, every step of the way.
→     40 years of experience in the dairy industry 
→     Short lines to product development with in house R&D 
→     Taylormade product development 
→     

We will never pass you as a dealer 
→     

Original Equipment Manufacturer (OEM) 
→     

High and consistence quality 
→     

Servicetraining centre 
Want to learn more about OEM possibilities?