Job opportunities - RIC systemen monteur
Ben jij op zoek naar een uitdaging in de techniek? Wil je werken in de agrarische sector? Dan is de Hokofarm Group op zoek naar jou!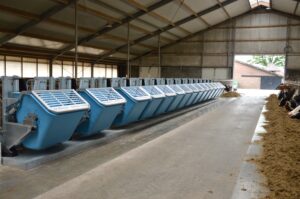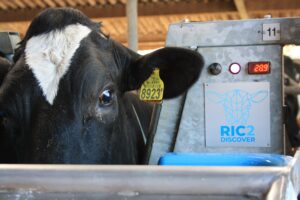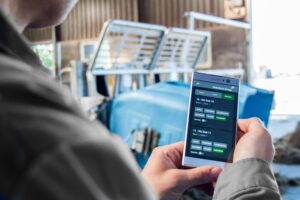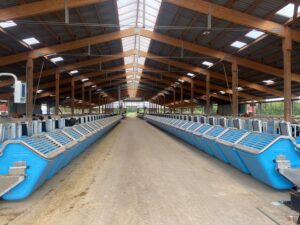 Wij zijn op zoek naar een Monteur RIC systemen
(fulltime functie, standplaats Emmeloord)
Wat ga je doen
Als Monteur RIC systemen bij de Hokofarm Group worden jouw werkdagen hoofdzakelijk gevuld door montage en begeleiding van RIC projecten en het verlenen van service en onderhoud hiervoor, voornamelijk bij onderzoeksbedrijven, universiteiten, geselecteerde vleesvee- en melkveebedrijven van de veevoerindustrie, fokkerijbedrijven of farmacie.
Je houdt je bezig met installatie- en servicewerkzaamheden van de binnen de Hokofarm Group ontwikkelde en geproduceerde RIC automatiseringssystemen, in zowel Nederland als in het buitenland. Tevens instrueer en adviseer je de eindgebruiker over het gebruik van RIC systemen. Door middel van een voor jou gemaakte planning weet je precies waar, wanneer en voor welke werkzaamheden je verwacht wordt bij de klant. Jouw werkgebied is wereldwijd. De Hokofarm Group is multi disciplinair, waar alle disciplines veel interactie hebben. Naast project- en afdelingsoverleg wordt veel informatie uitgewisseld in het informele circuit. Van de Monteur RIC systemen wordt een actieve rol verwacht in het uitwisselen van de kennis. Van de Monteur RIC systemen wordt verwacht dat deze, na een gedegen inwerkperiode, in staat is de functie volledig zelfstandig en onder verschillende omstandigheden uit te kunnen oefenen.
Taken en verantwoordelijkheden
Je installeert en begeleidt nieuwe projecten, eventueel samen met je collega's.
Je lost storingen op, zowel via telefonische support als ter plaatse bij klanten.
Je instrueert en adviseert eindgebruikers over het gebruik van hun RIC Systeem.
Je onderhoudt intern contact met collega's binnen de Hokofarm Group, (o.a. Business Unit Manager en Verkoop Binnendienst).
Je onderhoudt contact met externe bedrijven waar de uit te voeren werkzaamheden plaats vinden of die onderdeel uitmaken van de realisatie van het project.
Je bent mede verantwoordelijk bij de voorbereiding, planning en uitvoering van projecten in binnen- en buitenland.
Je draagt zorg voor een inzichtelijke en uniforme rapportage per project aan de Business Unit Manager.
Je bent verantwoordelijk voor minimale verschillen in de voor- en nacalculatie op projecten en voor een vastgesteld budget met vastgelegde bandbreedte.
Je draagt technische aspect kennis over aan de R&D afdeling.
Je draagt operationele kennis over aan de Business Unit Manager.
Je verzorgt trainingen en begeleiding van klanten en gebruikers.
8
Dit ben jij!
Je bent kritisch, zelfstandig, creatief en klantgericht.
Je beschikt over een MBO+/HBO opleiding in een technische richting (mechatronica), of hebt dit kennisniveau door ervaring verkregen.
Je kunt je goed in zowel de Nederlandse als de Engelse taal uitdrukken, in woord en geschrift. (Duits en/of Frans is een pré).
Je beschikt over een B rijbewijs, BE is een pré.
Je bent bereid om frequent te reizen en in het buitenland te verblijven voor een aantal perioden per jaar.
Je bent fulltime beschikbaar.
Je bent klantgericht, communicatief sterk, technisch goed onderlegd en flexibel.
Je hebt passie voor de agrarische sector.
Wij bieden
Een fulltime dienstverband (38 uur per week).
Een gedegen inwerkprogramma.
Een innovatieve werkomgeving vanuit een internationale setting met een boeiende doelgroep, waarbij onze klanten centraal staan.
Ruime mogelijkheden om je te blijven ontwikkelen.
Een marktconform/goed salaris.
Goede secundaire arbeidsvoorwaarden (CAO Metaal & Techniek).
Leuke collega's in een informele werkomgeving. Je gaat onderdeel uitmaken van een hecht en enthousiast team met passie voor Hokofarm en techniek, die jouw inbreng en ervaring op waarde weten te schatten.
Over ons
De Hokofarm Group (zustermaatschappij van SAC) richt zich op de ontwikkeling en verkoop van hooggekwalificeerde mechanica, optica, dierherkenning, elektronica en managementsystemen voor de internationale Agri en Nutri business. Een internationaal netwerk van geautoriseerde OEM distributeurs en dealers zijn een belangrijk onderdeel van het succes van de Hokofarm Group. Onze bedrijfsfilosofie "Bringing your ideas to life" benadrukt de centrale rol van de eindgebruiker.
Sinds de ontwikkeling in 1992 is ons RIC-systeem over de hele wereld te vinden. De Hokofarm Group is specialist is ruwvoeropnamebeheersing en alle research en development wordt in eigen beheer uitgevoerd. Onze ontwikkelingsingenieurs hebben directe ervaring met de melkvee- en rundveehouderij en zorgen voor praktische oplossingen die aansluiten bij de behoefte van de markt.
Korte lijnen, efficiënt, inventief, betrokken, kwaliteit en meedenken zijn woorden die ons omschrijven. Dit alles doen wij met elkaar in een informele, toegankelijke sfeer.
Ben je enthousiast geworden? Stuur dan je motivatie en CV naar: svl@hokofarmgroup.com o.v.v. Monteur RIC systemen. Voor vragen of meer informatie kun je contact opnemen met HR Business Partner Sanne van Leeuwen, tel. +31 (0)623010271.